Solarwinds Mobile Admin

Simplify IT Administration and Management from your Mobile Device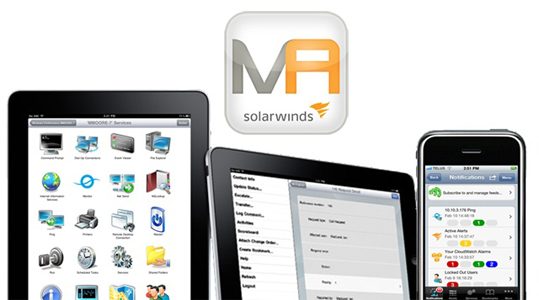 SolarWinds Products
Solarwinds Mobile Admin
SolarWinds Mobile Admin, Per Seat License (1 users)
License with 1st-year Maintenance
SolarWinds Mobile Admin, Per Seat License (2 to 4 users)
License with 1st-year Maintenance
SolarWinds Mobile Admin, Per Seat License (Unlimited users)
License with 1st-year Maintenance
#7105
Our Price: $2,995.00
Click here to jump to more pricing!
Overview:
SolarWinds Mobile Admin software provides secure access across 40+ IT management tools allowing IT administrators to solve any IT issue, anytime, anywhere, from any mobile device. When issues occur, Mobile Admin allows you to respond immediately to determine the cause of the problem and take corrective action without having to get to a computer to access the corporate network. Additionally, Mobile Admin dashboards live on the Mobile Admin Server and follow you as you switch devices!
Mobile Admin at a Glance
Diagnose, triage & resolve IT issues in a few clicks from any smartphone or tablet
Supports all key IT infrastructure technologies – AD, VMware, Backup Exec, Exchange & more!
Delivers real-time alerts and statuses on your Android, iOS, and Blackberry devices
Remote control with SSH, Telnet, VNC, RDP, proxy via Mobile Admin Server or direct connect
Easy to download & deploy, easy to use, & easy on your budget

Integration with SolarWinds Orion platform
Manage node details, interfaces and events from Orion platform products on your mobile device.

Active Directory management from mobile
Remotely reset passwords. View, edit, create, or delete domain users, groups and OU, and modify group memberships.

Virtualization management from mobile
Integration with VMware and Hyper-V lets you remotely manage and configure virtualized hosts and virtual machines.

Email server management from mobile
Manage mailboxes, stores, and mail queues, stop/restart Exchange services and modify storage/delivery settings.

Remote network administration from mobile
Troubleshoot network issues, and manage DHCP scopes, IP reservations, DNS zones and records.

Database administration from mobile
Manage database files, stored procedures, and log files, run SQL queries, start/stop SQL agent, reset passwords, and more.
Features:
Storage backup management from mobile
Simplify backup management with Backup Exec and NetBackup from Symantec.
Manage service requests from mobile
Integration with CA Service Desk and BMC Remedy Service Desk helps you create, update, and manage service requests.
Remote control computers from mobile
Set up remote connections with SSH, Telnet, VNC and RDP via Mobile Admin server or direct connect.
Mobile IT infrastructure monitoring
Get performance metrics and alerts from Nagios, BMC Performance Manager and Microsoft SCOM.
Remote Windows administration from mobile
Perform Windows administrative tasks, view logs, start/stop services and access command prompt, and more.
Amazon EC2 administration from mobile
Browse EC2 regions, see scheduled events, display CloudWatch alarms, start/stop/reboot instances.
Mobile IT Administration App Capabilities:
Solve IT issues more effectively (from your mobile device) through a single pane of glass
SolarWinds Mobile Admin software provides contextual navigation across 40+ IT management tools allowing IT administrators to solve any IT issue, anytime, anywhere, from any mobile device. Mobile Admin integrates with the following technologies:
Infrastructure Monitoring: SolarWinds, Nagios, BMC Performance Manager Portal, Microsoft System Center Operations Manager
Backup: Symantec Backup Exec, Symantec NetBackup
Virtualization Management: VMware
Infrastructure Management, Microsoft Hyper-V
Cloud Computing: Amazon EC2
Windows: Command Prompt, Event Viewer, Local Users and Groups, File Explorer, Printers, Restart, Scheduled Task, Shared Folders, Services, System Information, Task Manager, Terminal Services, PowerShell, Dial-up Connections
Authentication & Directory Services: RSA ACE, Microsoft Active Directory, Novell NetWare
Incident & Change Management: CA Service Desk Change Orders, CA Service Desk, BMC Remedy Service Desk
eMail: Microsoft Exchange, Domino
Mobile Device Management: Microsoft ActiveSync, Microsoft System Center Mobile Device Manager, BlackBerry Enterprise Server
Networking: Microsoft DHCP, Microsoft DNS, Netsend/Traceroute/Ping
Database: Oracle, Microsoft SQL Server
Cluster: Microsoft Cluster
Web: Microsoft IIS
Remote Access: RDP, VNC, SSH/Telnet, TN3270, TN5250, Citrix, HP iLO
Real-time alerting dashboard, customized for your job 
SolarWinds Mobile Admin's dashboard and notification system provides instant notification of issues you care about.
Maybe you are only interested in the alerts generated by one host in your SolarWinds Server & Application Manager deployment? Just browse to the host in question with Mobile Admin and you can instantly bookmark the current scope of alerts.
Any time an alert is raised for that host, your device will buzz and an alert will be displayed in the Mobile Admin Dashboard. One click from that, the Mobile Admin alert takes you directly to the corresponding Server & Application Manager alerts for that host. From there you can actually fix the problem with one of Mobile Admin's 40+ resolver plugins. Once the issue is fixed, return to the Mobile Admin dashboard and watch the red turn to green.
Solve any IT issue, anytime, anywhere from any mobile device
With support for iOS, Android and BlackBerry devices, you can now resolve any IT issue using any one of your favorite mobile devices, from any location. For example, you can reset a password while waiting in line at the checkout counter and reduce user downtime from hours to minutes.
We also know that IT professionals like you use more than one device. With Mobile Admin, your settings and personalized dashboards live on the Mobile Admin Server and follow you as you switch devices.
Quickly deploy secure mobile access for a multitude of mobile devices and IT management technologies with one, integrated mobile admin app
Many IT management software vendors have provided the capability to access their software from a mobile device. However, most IT admins wear many hats and need access to many IT management applications. To provide access to each mobile app as a stand-alone project is cumbersome to implement. Because Mobile Admin™ securely integrates with a wide variety of IT management tools, business who want to improve employee and customer satisfaction can quickly deploy mobile administration. Mobile Admin™ provides several layers of security to include:
Encryption with BlackBerry Enterprise Server (Blackberry Devices)
Encryption with VPN (iOS and Android devices)
Encryption with HTTPS (iOS, Android and BlackBerry devices
Mobile Admin Proxy
Three different levels of Authentication
Integration of Active directory
Mobile Devices:
Mobile Admin Benefits:

Mobile Admin is used by thousands of users to troubleshoot and resolve any IT issues from any mobile device. When issues occur, Mobile Admin allows you to respond immediately to determine the cause of the problem and take corrective action without having to get to a computer to access the corporate network.

Fix problems quickly with round the clock IT support
Improve employee productivity & satisfaction with instant access to information and tools from any location.
Quickly deploy mobile access for a multitude of IT management tools with one secure mobile app.

Receive personally-scoped alerts and statuses directly on your device.

Maybe you are only interested in the alerts generated by one host in your Ops Manager deployment. Just browse to the host in question with Mobile Admin and you can instantly bookmark the current scope of alerts.

Any time an alert is raised for that host, your device will buzz and an alert will be displayed in theMobile Admin Dashboard. One click from that Mobile Admin alert takes you directly to the corresponding Ops Manager alerts for that host.

From there you could actually fix the problem with one of Mobile Admin's 40+ resolver plugins. Once the issue is fixed, return to the Mobile Admin Dashboard and watch the red turn to green.

This contextual navigation is accomplished directly from your mobile device or tablet.

Quickly deploy secure mobile access for a multitude of mobile devices and IT management technologies with one, integrated mobile app.

Many IT management software vendors have provided the capability to access their software from a mobile device. However, most IT admins wear many hats and need access to many IT management applications.

To provide access to each mobile app as a stand-alone project is cumbersome to implement. Because Mobile Admin™ securely integrates with a wide variety of IT management tools, businesses who want to improve employee and customer satisfaction can quickly deploy mobile administration.

Mobile Admin provides several layers of security to include:

Encryption with BlackBerry Enterprise Server (Blackberry Devices)
Encryption with VPN (iOS and Android devices)
Encryption with HTTPS (iOS, Android and BlackBerry devices)
Mobile Admin Proxy
Three different levels of Authentication
Integration of Active directory
System Requirements:
Hardware
Minimum Requirements
CPU
Dual-core 2.66GHz
Memory
2GB
Hard Drive
200MB for installation. 
20GB for optimum performance.
Software
Minimum Requirements
Operating System
Licensed version supported on Windows Server 2003, 2008, 2008 R2, 2012, 2012 R2.
Free trial/evaluation version also supported on Windows Vista, 7, 8, 8.1.
.Net Framework
4.0
Mobile Client
Download free mobile client from Apple iTunes, Google Play, BlackBerry World and Amazon.

Apple iOS 6.1 and later
Android 2.3.x and later
BlackBerry OS 7.x and earlier
Amazon Kindle Fire HD 7" and 8.9
SolarWinds Products
Solarwinds Mobile Admin
SolarWinds Mobile Admin, Per Seat License (1 users)
License with 1st-year Maintenance
SolarWinds Mobile Admin, Per Seat License (2 to 4 users)
License with 1st-year Maintenance
SolarWinds Mobile Admin, Per Seat License (Unlimited users)
License with 1st-year Maintenance
#7105
Our Price: $2,995.00