Solarwinds Database Performance Analyzer – VMware Option

Quickly Identify the Root Cause of Performance Issues for Databases on VMware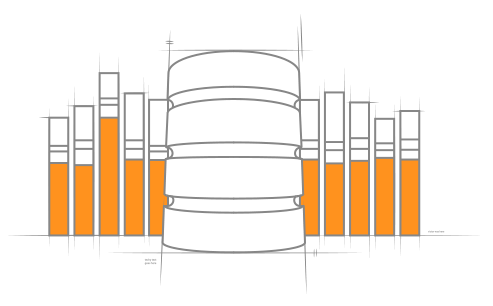 SolarWinds Products
Solarwinds Database Performance Analyzer – VM Option
SolarWinds Database Performance Analyzer VM Option add-on per Database instance (1 to 4 licenses)
License with 1st-year Maintenance
SolarWinds Database Performance Analyzer VM Option add-on per Database instance (5 to 9 licenses)
License with 1st-year Maintenance
SolarWinds Database Performance Analyzer VM Option add-on per Database instance (10 to 19 licenses)
License with 1st-year Maintenance
Click here to jump to more pricing!
Overview:
SolarWinds Database Performance Analyzer – VM Option (formerly Confio IgniteVM) is a performance monitoring tool for database administrators running databases on VMware, helping them achieve high performance and reliability.
Database Performance Analyzer – VM Option at a Glance
Safe, non-intrusive access for DBAs to see VMware configurations and statistics that directly impact the database.
View actual available server resources, not the erroneous data "seen" by the database in the virtual server.
Understand database impact of virtual machine between host servers.
Monitor impact of of VMware vMotion changes on database performance.
Key Advantages
See real statistics. When a database is running on a virtual host, common measures of CPU utilization and availability, memory usage, and I/O capacity are meaningless. Database Performance Analyzer – VM Option captures the real statistics from VMware and exposes them to the DBAs.
Monitor rapidly changing resources. On a virtual server, CPU, memory, and I/O performance are subject to instantaneous changes by the VMware administrator, or even dynamic changes by VMware "vMotion." Database Performance Analyzer – VM Option explicitly shows when changes occur.
Understand I/O bottlenecks. Correlate database I/O response time delays with I/O resource constraints at the virtual and physical server to get a true picture of how VMware is affecting database output.
Get a clear, simple picture. vCenter is complex and makes it difficult for the DBA to determine what affects the database.

Multi-dimensional performance analysis
Correlate SQL response time with VM resources, physical host, storage, and the network.

Historical trends and resource correlation
Highlight the anomalies that are easy candidates for tuning with DPA's historical repository.

Advanced wait-based analytics
Identify affected queries, wait event or wait type, and response time impact of each bottleneck.

Alerts, reports, and baselines
Alert and report without overloading your inbox with baselines that highlight outliers.

Expert tuning advice
Get expert performance tuning advice for every instance and all skill levels.

Agentless architecture
Get less than 1% load on monitored servers, with no agents to install.
Features:
Essential Database Visibility For VMware Projects
IT needs additional visibility when databases are moved from physical to virtual servers. VMware‰ tools do not cover the database layer, and conventional database tools cannot capture meaningful resource information from virtual servers. DBAs cannot manage what they cannot see. Database Performance Analyzer – VM Option removes the availability and performance uncertainty that comes with shifting critical databases from physical servers to VMware.
Database Performance Analyzer – VM Option is the only monitoring tool that exposes the multiple layers of the database and virtual machine architecture, including database instance, virtual server and physical host server resources. By knowing what changes in the virtual server impact CPU, memory, or I/O, a DBA can ensure reliable operations and service levels.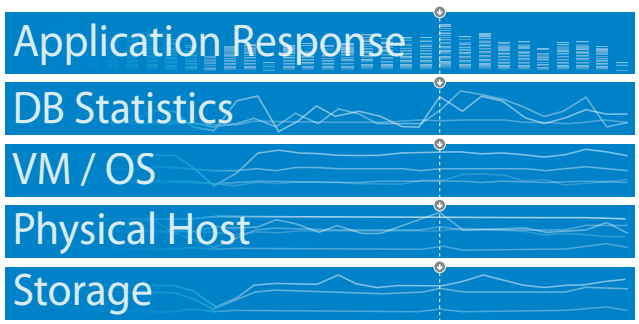 Multi-layer visibility reveals when changes to the VM or storage layer impact database performance.
Reduce Performance And Availability Risk
When running critical databases on VMware, DBAs and IT managers must ensure effective monitoring across the software layers to prevent situations that might create performance issues. Database Performance Analyzer – VM Option removes risk and enables the DBAs and VMware administrators to cooperate to ensure top database performance on VMware.
Database Performance Analyzer – VM Option helps:
Accelerate the cost-savings realized by moving databases to VMware
Establish proactive monitoring for VMware hosted databases
Avoid costly service interruptions from unseen virtual server-database interaction
Agentless Architecture
Database Performance Analyzer - VM Option uses an agentless architecture with no software installed on monitored databases, virtual servers, or the vCenter server. Requiring read-only access, and without exposing VMware passwords to users, it is the safest way to give DBAs access to necessary virtual server data.
Database Performance Analyzer - VM Option can connect to vCenter or directly to the ESXi hosts to gather VMware statistics. Agentless monitors capture database statistics directly from each instance.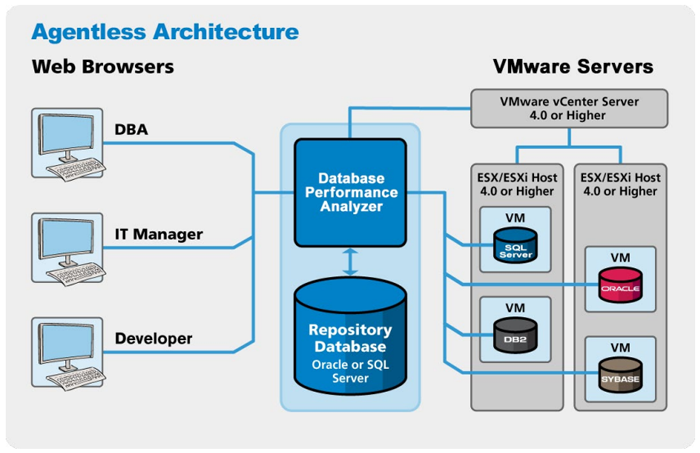 Database Performance Analyzer – VM Option Agentless Architecture
Accelerate Database Performance on VMware
Monitor performance of Oracle, SQL Server, MySQL, DB2, and SAP ASE on VMware with a single tool.
Single-pane dashboard of VM and physical host performance indicators
DPA correlates SQL response time with VM resources, the physical host, storage, and network.
Eliminate finger-pointing
DPA builds collaboration among DBAs, developers, Q/A, and VM administrators.
Quickly resolve database performance issues
Using easy-to-understand bar charts, DPA gets to the problem quickly and shows objective evidence.
Align resource provisioning with database performance
Developers get a unique perspective on the VMware infrastructure and its impact on database performance.
Monitor configuration change impacts
Understand the real impact of VMware configuration and events like vMotion on your database performance.
System Requirements:
Hardware
Minimum Requirements
CPU
Dual Core
Memory
4GB
Hard Drive
3GB / monitored instance
Software
Minimum Requirements
Operating System
Linux/UNIX or Windows Server
Supported Instances
Oracle 11g, 12c
SQL Server 2008, 2012, 2014
SAP ASE (Sybase) 15.0x, 15.6, 15.7, 16
DB2 9.x, 10.1, 10.5
VMware ESX/ESXi 5.1, 5.5
MySQL 5.6+
Database
Oracle 11g, 12c
SQL Server 2008, 2012, 2014
Web Console Browser
IE - 8, 9, 10, and 11,
Firefox 3.6 and higher,
Chrome latest version
NOTE: System Requirements specified are for less than 20 monitored instances, additional resources may be required for larger deployments.
Screenshots: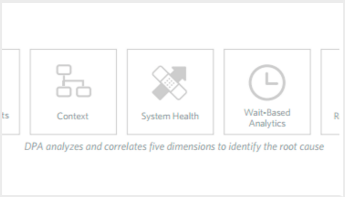 Multi-dimensional performance analysis
Correlate the workings of the database engine, the SQL query, server resources, storage, and VMware layers.
SolarWinds Products
Solarwinds Database Performance Analyzer – VM Option
SolarWinds Database Performance Analyzer VM Option add-on per Database instance (1 to 4 licenses)
License with 1st-year Maintenance
SolarWinds Database Performance Analyzer VM Option add-on per Database instance (5 to 9 licenses)
License with 1st-year Maintenance
SolarWinds Database Performance Analyzer VM Option add-on per Database instance (10 to 19 licenses)
License with 1st-year Maintenance
SolarWinds Database Performance Analyzer VM Option add-on per Database instance (20 to 29 licenses)
License with 1st-year Maintenance