Solarwinds Backup

Cloud-first backup, without the cost and complexity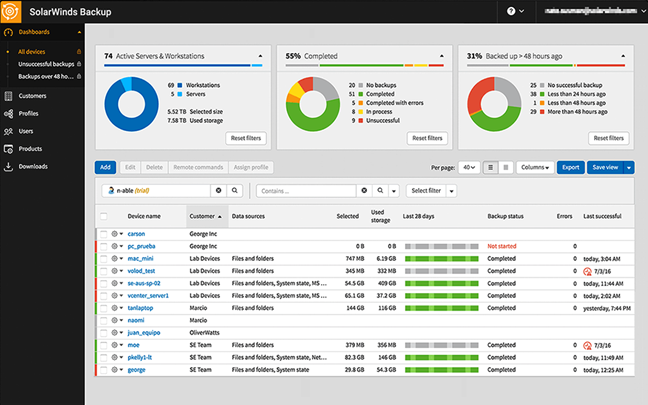 Overview:
SolarWinds Backup is designed to provide a streamlined, cloud-first data protection service for physical and virtual servers, workstations, business documents, and Microsoft 365 data in one web-based dashboard. Backup can help reduce the cost and complexity of data protection—without sacrificing speed or reliability. Storage in our global private cloud is included.
---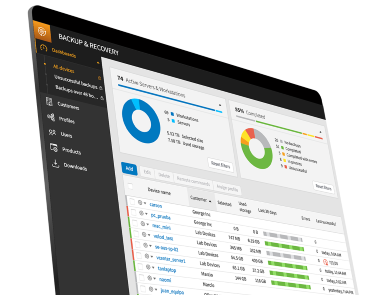 Backup Streamlined
Whether you support legacy solutions or you're maintaining hardware for a "cloud" product, backup can quickly get too complicated. SolarWinds Backup helps you break out of this backup trap. With a single, easy-to-use dashboard, private cloud storage included (with fast data transfers), and multiple recovery methods at your fingertips, SolarWinds Backup helps cure your backup pains.
---
One Simple Web-Based Console
Businesses often acquire multiple solutions over time to cover their backup needs. They may have one for servers, one for workstations, and one for specific databases. SolarWinds Backup gives you a cleanly designed, multitenant hosted console to let you check backup statuses, schedule backup jobs, and recover data—for physical and virtual servers, workstations, documents, and Microsoft 365 Exchange, OneDrive, and SharePoint.
---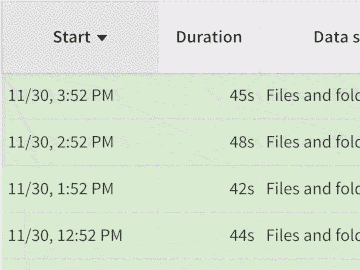 Optimized for Fast Data Transfer
Cloud services can offer incredible convenience—from lower (or eliminated) hardware costs to reduced maintenance. However, many backup providers simply tack on a public cloud to a legacy solution, which can make cloud-based backups slow to a crawl. SolarWinds Backup was built for the cloud from day one and designed for rapid transfers to and from our global, private cloud over the WAN.
---
Skip the Hardware Headaches
When it comes to backup, cloud software should be just that—cloud. You shouldn't have to pay for appliances up front, or eat the cost of replacements when hardware breaks. SolarWinds Backup is built to reduce your hardware costs by storing backups in our own cloud (so managing, provisioning, maintaining, and replacing storage is on our budget, not yours). And if you want a local copy, you can choose your own hardware.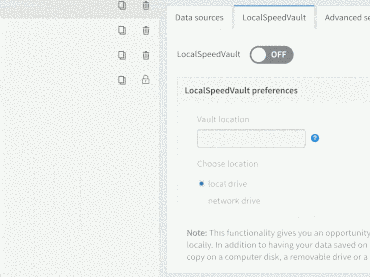 ---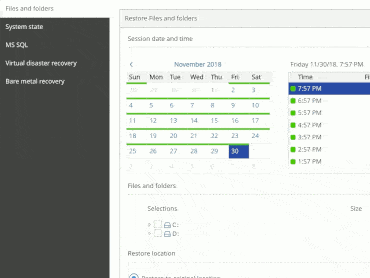 Multiple Recovery Options-One Simple Console
Different situations can call for different recovery needs. A ransomware attack or natural disaster requires a different recovery method than restoring a single spreadsheet. SolarWinds Backup offers a range of recovery options—such as bare metal, physical-to-virtual, or virtual-to-virtual—to fit multiple recovery situations, all included in the base price.
Features:
Built for the Cloud
Backing up to the cloud isn't an afterthought with SolarWinds Backup; it was built for that.
True Delta deduplication, compression, and WAN optimization help make daily backups fast by sending only changed bytes.
Cloud storage (including archiving) is included at no extra charge in data centers located worldwide.
AES 256-bit encryption protects backup files in transit and at rest.
Flexible Recovery Options
Get multiple recovery options from a single product, with no extra charges for different recovery methods.
Leverage fast file- and folder-level recovery and full system recovery with bare-metal restore or virtual disaster recovery.
Create a standby server via our continuous recovery option.
Recover at LAN speed via the LocalSpeedVault option if needed.
TrueDelta Technology
Byte-level change tracking between backups helps ensure only changed data gets sent over the WAN.
Proprietary deduplication and compression technology means daily backups are a fraction of selected size.
WAN optimization helps minimize bandwidth usage; bandwidth throttling is available during business hours for slow network connections.
Restore only what has changed for efficient recovery.
End-to-End Security
AES 256-bit encryption iis used to help secure files that remain encrypted in transit and at rest.
Create your own private key or have one generated for you during deployment when using the standalone version. Integrated N-central Backup and RMM Managed Online Backup offer passphrase encryption.
ISO-certified data centers are located worldwide, with additional certifications by location.
Role-level access provided in the standalone edition of SolarWinds Backup lets you grant limited access to backups as needed. The N-central and RMM integrated versions use each platform's access controls.
No Hardware Hassles
SolarWinds Backup is a SaaS application—no need to install on or maintain a local application server.
No physical appliance required, which helps save you time and money.
No need to buy, provision, or manage local data storage for your backups. Storage in our private cloud is included.
Keep an optional local copy of your data using an existing network share or other hardware with LocalSpeedVault.
Efficiency and Ease of Use
Simplify backup management and spend less time on routine tasks.
Manage server, workstation, document, and Microsoft 365* backups for multiple locations or customers from a single dashboard.
Automate backup deployment with device profiles to help provide consistent configurations.
Manage by exception with customizable views and reporting.
Data Centers Around the World
Backup storage in our private cloud is included in your price.
More than 30 data centers to choose from, located across four continents.
ISO 27001, ISO 9001, and other certifications depending on your chosen data center.
Using one vendor for your backup software and cloud storage simplifies billing and support.
Microsoft 365 Data Protection*
(standalone and integrated in N-central)
Recovery of deleted items helps you keep control of your customers' data in Microsoft 365.
Manage Microsoft 365 backups from the same dashboard as server and workstation backups.
Up to seven years' data retention to help your customers meet regulatory requirements.
Storage in our global private cloud is included. Fair-use policies apply.**
*Backup for Microsoft 365 includes Exchange™, OneDrive, and SharePoint data.
**Fair use policy includes up to 1TB of Microsoft 365 data per unique user.
System Requirements:
Supported Operating Systems
Windows
7, 8, 8.1 and 10
Windows Server
2008 SP2, 2008 R2, SBS 2011, 2012, 2012 R2, 2016 (limited), Windows Server 2019 (limited)
macOS
10.10 Yosemite
10.11 El Capitan
10.12 Sierra
10.13 High Sierra
10.14 Mojave
10.15 Catalina
GNU/Linux
CentOS 5, 6, 7
Debian 5, 6, 7, 8
OpenSUSE 11, 12
Data Sources For Backup
The Backup Manager handles individual files and directories as well as complex systems, such as:
Microsoft SQL Server
VMware
Microsoft Hyper-V
Microsoft Exchange
Oracle
MySQL
In addition, you can back up and recover the configuration of your operating system (the "System State" data source) and Microsoft 365. The N-central integrated version also supports Microsoft 365 data protection.
Addition Features
Available on all supported operating systems
Multilingual support. You can use the Backup Manager in any of these seven languages: English, Dutch, Russian, German, Spanish, French, or Portuguese.
Optional custom branding. When using the standalone edition, you can brand the Backup Manager for your end users, removing references to SolarWinds. Use a custom name, logo, color scheme, and icons.
Remote management. You can send remote commands to the Backup Managers on your end users' devices.
Proxy connections. The Backup Manager can work from behind a proxy server.
Email reports. Receive email updates on status or recent backup and recovery sessions. This can be done by an end user in the Backup Manager or remotely by a service provider or a system administrator.
Bandwidth usage control. Help ensure your bandwidth usage never exceeds a specified limit.
Addition Features
Management Console (Web) Backup Manager
https://backup.management/
Client-side backup application available in English, Dutch, Russian, German, Spanish, French, Portuguese, and Norwegian
Virtual Drive
Optionally installed with the Backup Manager, this allows self-service access to backed-up data via local file browser
Recovery Console
Multi-instance recovery tool for setting up proactive or on-demand data recovery from servers and workstations to any location
Bare-Metal Recovery
Create bootable USB or CD media to recover your system directly to bare hardware without a prior OS installation
Server Tool
Self-service tool for managing seed uploads or downloads from almost any location
Storage Node Installer
Optional installer for self-hosted storage node
What's Covered by SolarWinds Backup?
Cloud Server Backup Software
Cloud-first backup for physical and virtual servers
SolarWinds Backup helps protect physical and virtual servers (VMware vSphere and Microsoft Hyper-V) with backups managed from the same console alongside workstation, document, or Microsoft 365 backups. Storage in our global private cloud is included in the price. Additionally, our server backup solution provides several recovery options designed to quickly and conveniently recover both servers and applications.
You can also save valuable administrative time with SolarWinds because backups for physical and virtual servers are managed from the same dashboard as workstation and Microsoft 365 backups. This gives you at-a-glance visibility to the protection status of device types across your customers. Color-coded charts show backups successfully completed, completed with errors, or failed. Simply click on the color segment to drill down and quickly troubleshoot any issues.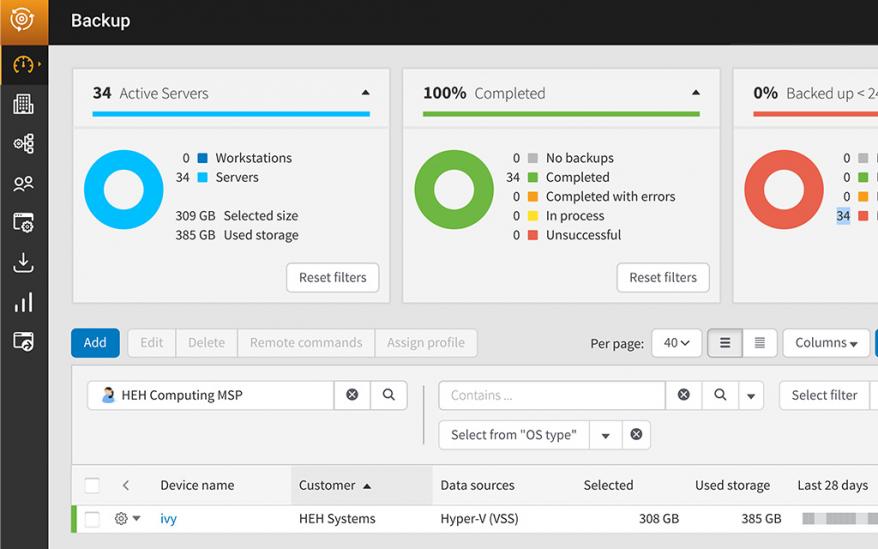 SolarWinds Online Server Backup Offers:
Efficient backup: The unique architecture tracks changes from within the disk, making it more efficient than traditional image-based backup. This results in smaller incremental backup files, allowing you to back up more frequently and retain data longer using the same amount of storage and network bandwidth.
Rapid recovery: SolarWinds server backup uses the faster recovery source—from either your LocalSpeedVault or the cloud. File- and folder-level recovery can be done without restoring an entire server.
Physical-to-virtual recovery: If your physical hardware is unavailable, you can recover the server as a virtual machine to your own VMware vSphere or Microsoft Hyper-V environments, including to a Hyper-V instance in Azure.
Bare-metal restore: Use our cloud server backup software to run regular backups of boot volumes, system states, applications, and system data, helping you prepare for almost any disaster.
Optimized resource usage: Following your initial backup, our server backup software is powered by proprietary TrueDelta technology that tracks and backs up only changed bytes (rather than full files), facilitating faster backup processes so you don't need to schedule them during off-hours.
Cloud storage built for security: Our global data centers meet or exceed ISO compliance , and our backup solutions use AES 256-bit encryption to protect your backup data in transit and at rest.
Availability: Our data centers use a minimum of n+1 redundancy on critical systems for power, environment, and internet access.
Virtualization support: Cloud-based server backup natively supports both VMware and Microsoft Hyper-V platforms.
Comprehensive platform support: With support for Microsoft Windows, Linux, Mac OS X, VMware vSphere, and Microsoft Hyper-V, SolarWinds Backup is engineered to cover an entire network. We also archive application data from Oracle, SQL Server, MySQL, Exchange, and SharePoint.
---
Workstation Backup Software
Maximize employee productivity by minimizing workstation downtime
Employees rely on their workstations to perform their daily tasks and keep business going. Downtime can grind productivity to a halt, making customers unhappy and impacting their profitability. SolarWinds workstation backup allows you to manage backup and recovery for Windows and MacOS workstations from the same management console as servers and Microsoft 365 email.
A full system backup can help you restore complete desktops, laptops, or other workstations, including their data and underlying systems, to recover in case of device failure, destruction, or loss. Fast recovery helps keep employees productive and helps protect important intellectual property.
If you only need to restore a few lost files or folders, this same workstation backup can be used to easily navigate to and restore only what you need. There is no need for full-system recovery to restore a few items, so these small, everyday disasters can be handled quickly and efficiently.
Best of all, with SolarWinds Backup you can view, manage, and troubleshoot workstation backups from the same unified dashboard as physical and virtual servers and Microsoft 365 data. This helps save administrative time every day, not just when recovery is needed.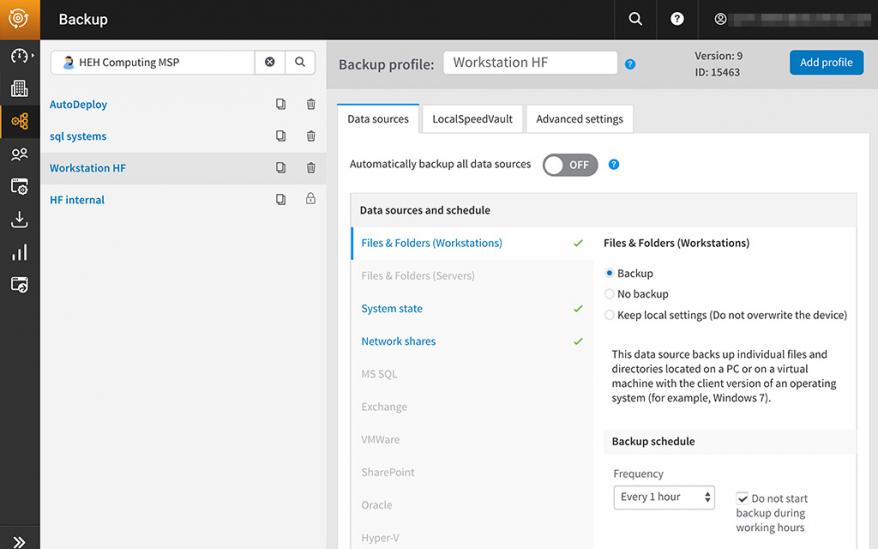 From full-system restores to granular item recovery, SolarWinds cloud-first workstation backup is designed to help you focus on serving your customers, and to help them focus on their business.
SolarWinds workstation backup offers
Simple deployment: Deployed standalone or integrated with SolarWinds RMM or N-central®, our workstation backup protection only takes a few clicks. There is no backup application server needed
Easy monitoring: Our workstation backup solutions allow you to view, manage, and troubleshoot the status of backups using a unified management console.
Cloud storage included: : Our global data centers were built for security, meeting ISO standards , and workstation backups are protected using AES 256-bit encryption in transit and at rest
Availability: Our data centers are built for redundancy to maximize data availability and access.
Granular data selection: Whether it's a file, folder, application, operating system, or a complete workstation, SolarWinds workstation backup software lets you select which data to protect and recover
Redundancy: Cloud first doesn't have to mean cloud only. With our optional LocalSpeedVault, you can store a second copy locally for built-in redundancy and the fastest possible recovery
Optimized resource usage: Following your initial full backup, our proprietary TrueDelta technology tracks and backs up only changed bytes (rather than full files), facilitating faster backup processes so you don't need to schedule them during off-hours. Our innovative architecture is more efficient than traditional image-based backup, resulting in smaller incremental backups that run faster and take up less storage space. This means you can back up more frequently, and retain data longer, using the same hardware you already have
---
Backup Documents
Protect and back up critical business documents affordably
Employees often keep working copies and final versions of important business documents on their local machines. But what if that workstation suffers a hardware failure or physical damage? What if a laptop is stolen? Losing critical business documents can mean wasted time at best—or serious consequences for a business at worst—if the data cannot be recovered.
SolarWinds Backup Documents is an efficient, lightweight solution that automatically finds business documents on workstations and backs them up twice a day. Additionally, the system offers self-service to end users—empowering them to recover documents temporarily lost due to ransomware or accidental deletion without needing to call the help desk.
Because SolarWinds backup document software doesn't back up system states or operating systems, and doesn't require manual configuration, this feature can be offered at a lower price than full workstation backup, providing your customers with affordable protection against losing critical documents. It's a great backstop for small customers who are unwilling to pay for full device data protection, but will certainly call their MSP when data is lost.
Protected document types include Microsoft Office (Word, Excel, PowerPoint) files, OpenDocument and other open source file types, OneNote, .PST, PDF, Apple Keynote, Numbers and Pages files, StarOffice, TXT, CSV, several types of database files, Visio, and QuickBooks QBB files.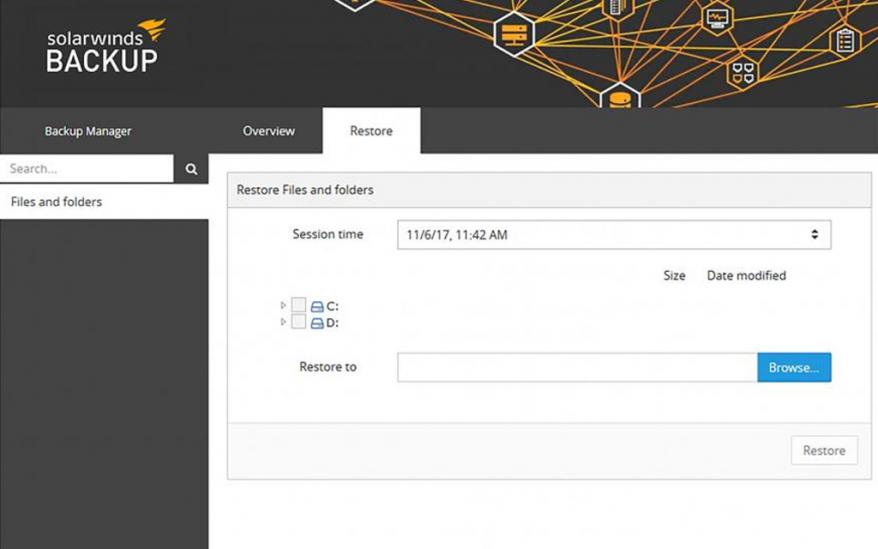 SolarWinds Backup Documents offers:
Affordable backup: SolarWinds Backup Documents is our lowest priced data protection offering, designed to provide a lightweight "insurance policy" against document loss.
Automatic deployment: Backup Documents can be deployed to each workstation automatically with no configuration required.
Document discovery: Backup Documents is engineered to automatically find business documents, spreadsheets, presentations, and word processing files wherever they are stored on a local hard drive. It doesn't matter if files are stored in a documents folder, on the desktop, or anywhere else. SolarWinds Backup Documents looks for protected file types and backs them up.
Automatic daily backups: Documents are backed up twice a day automatically.
28 days of insurance: Document backups are automatically retained for 28 days. You can choose from up to 56 different restore points if a recovery is needed.
End user self-service: Users can log in to search and select the backed up documents they need to recover without involving technical staff.
---
Backup for Microsoft 365
Data protection for Microsoft 365
As businesses adopt SaaS applications and shift resources to the cloud, Microsoft 365 (previously known as Office 365) is quickly becoming standard. Cloud-based software can save money and potentially help save you from the hassles of managing application servers, but it can also lead to a false sense of security if you assume Microsoft will handle all your data retention and recovery needs.
While it's true that some editions of Microsoft 365 include data loss prevention and litigation hold options, these are not the same as backup, and not every small business wants to invest in enterprise editions. These native options do not create a second copy of your data that is stored in a separate physical location, and they are not designed for fast restore of deleted emails or data.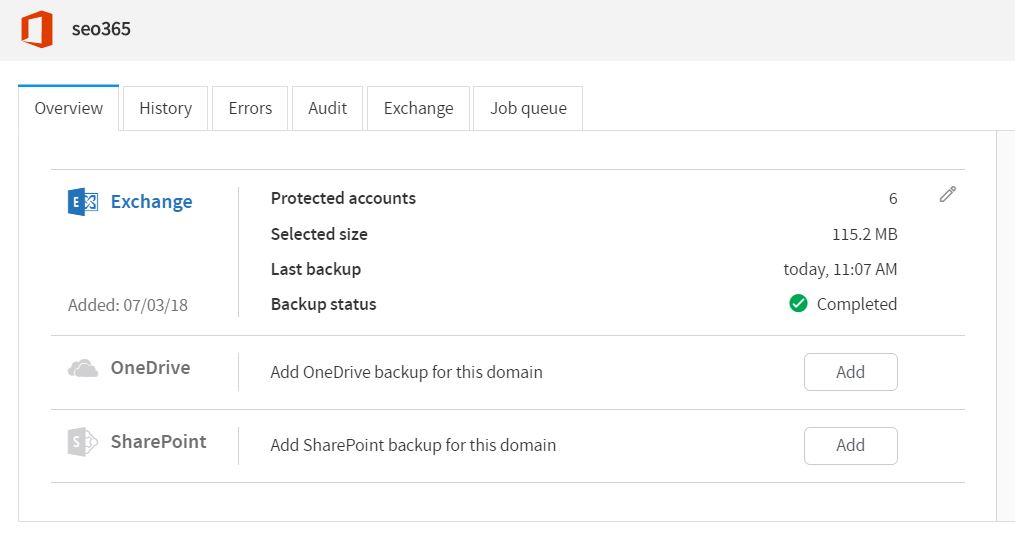 Microsoft 365 Protection
Your customers count on you to help protect them against data loss. By deploying your own backup solution for Microsoft 365, you retain control over the retention and recoverability of your customers' data in Microsoft 365 and can be ready to help them in their time of need. Whether accidental deletion or data retention requirements are your concern, the SolarWinds backup solution for Microsoft 365 is here to help you help them.
Managing backups for your customers from the same efficient dashboard you use to protect servers and workstations means you'll spend less time on backup administration and more time assisting your customers.
Protection against data loss: Users can often unwittingly (or purposely) delete important emails, or OneDrive or SharePoint files. If this happens, SolarWinds® Backup offers the ability to quickly search for and recover what you need without having to file a support ticket with Microsoft.
Access to email for former employees: If employees leave and you don't want to continue paying Microsoft a subscription fee simply to store their email and shared documents, SolarWinds Backup for Microsoft 365 offers an additional way to retain and access this data.
Support for compliance: If you are responsible for an organization that falls under regulations with data-retention requirements, SolarWinds Backup is designed to help you retain and archive critical data.
Easy management: With SolarWinds Backup for Microsoft 365, you can manage your Exchange, OneDrive, and SharePoint backups from a single web-based dashboard. See and manage backup status across your customers, and many device and data types.
Automation: SolarWinds Backup helps you strike the right balance between automation and control. You can manually select which Exchange accounts and mailboxes you want to protect, or automatically add newly created Microsoft 365 accounts to the backup schedule.
Point-in-time restore: Exchange mailboxes are backed up automatically up to six times a day, and backups for OneDrive and SharePoint accounts are performed automatically up to four times a day, giving you multiple daily restore points. Choose the one you want, and recover fast.
Data retention: Exchange data is retained for seven years, and OneDrive and SharePoint data retained for one year, giving you many potential restore points from which to choose.
Get in touch with a Solarwinds Solutions Specialist today to Learn More!